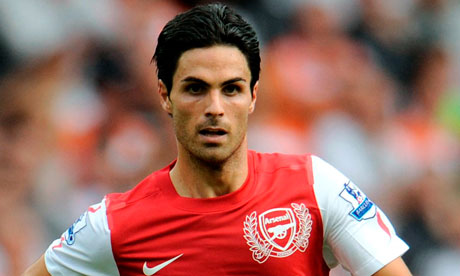 Arteta in action.
So here he is . Arsenal's wonder signing in the dying moments of the transfer market. Brought onto the Gunner bandwagon for a fee of 10 million euros from Everton.
Mikel Arteta , who played a pivotal role for his previous team and thus cemented his presence in the premier league. Having made 4 appearances for Arsenal by now , Arteta has certainly impressed one and all with his excellent close control and game sense.
In each appearance he has made for Arsenal FC, he has maintained a tight control on the flow game in the mid field working well with Aaron Ramsey by his side.
The good thing about Arteta apart from his football skills is that he never makes a rash move no matter what the situation. Over the last few months , Arsenal players have often gave in to their temper and frustration and due to which the referees happily flash their cards and ruin the match for the team. Arteta brings to the team a sense of quiet determination that stabilizes the game play and maintains equilibrium throughout the 90 minutes.,
Here a few important pointers worth knowing about the new mid-fielder-
Born
on - 26 March 1982
Place of Birth - San Sebastian, Spain
Playing Postiton - Midfielder
Previous Club - Everton (2005-2011)
Number - 8